The Finest Vintage Guitar Dealer on Long Island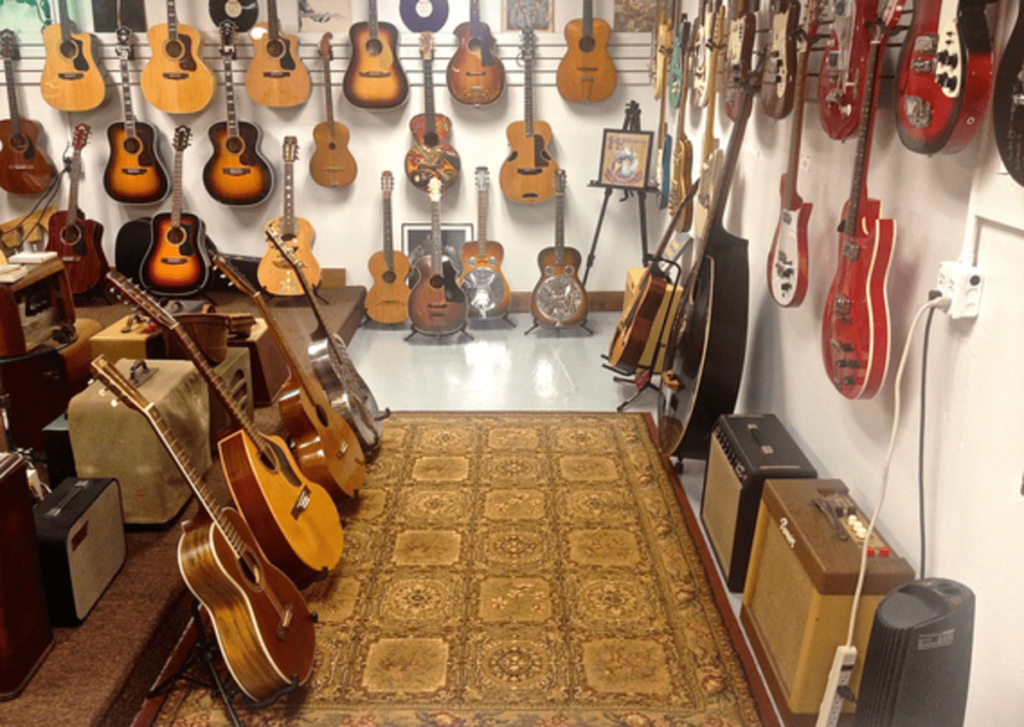 WELCOME TO THE VINTAGE GUITAR GALLERY
At the Vintage Guitar Gallery of Long Island, we specialize in rare and unique guitars, basses, amps, and other fine instruments that have shaped the sounds of the greatest music of Blues and Rock N' Roll. We have always seen great artistic beauty in these older instruments and are proud to refer to them as works of Fine Art.
We are a full-service dealer of vintage guitars and amplifiers and provide professional sales, repair/restoration, appraisal, auction, and consignment services. Our office is located at 315 Main Street Huntington, NY 11743. Visits are available by appointment only, so please make sure to call ahead.
Blake Thompson
2023-01-21
Excellent seller! Communicates quickly and very responsive. The guitar is awesome as advertised. Highly recommend!
Thanks again Michael for the 1940 Gibson L4 it's easily one of finest instrument I've ever owned! I think I may just start selling off my newer guitars for vintage ones. And you will my first stop! Thanks John
Eric Michelsen
2021-07-31
It was a pleasure dealing with Mike from Vintage Guitar. He is courteous and knowledgeable about his business and will get you the best price for your instrument. I highly recommend him.
Kudos for an outstanding setup on my Gibson Custom Shop '59 Les Paul. It far exceeded the average setup I am used to. Michael deep-dives into detail, and has the knowledge, skill set, and does the work! Don't expect a 30 minute change of strings and intonation setup. He does so much more than that and therefore I highly recommend him to beginners, advanced players, and high-end collectors alike.
Michael is such a stand up guy. Very honest and true to point. I think my 335 came with the original strings as well! It was a great experience and my guitar is what I had been looking for for years! Thank you, Michael. Tuned her up and she roars like a Mountain Lion. Decades of Sustain- you were right! A true Player. Chris
Wonderful experience dealing with Michael at Vintage Guitar Gallery of Long Island. Very courteous and prompt, and offers quality vintage instruments. My purchase was shipped across country overnight, packaged well and made it safely.
As a lefty buying a guitar is hard, and I am almost always buying blind online. I recently purchased a vintage Martin D-35 L from Vintage Guitar and I was blown away by what I received, low action, good intonation, no fret buzz, balanced tone -- and the guitar booms. Mike was very helpful, and I am extremely happy with my transaction.
Excellente prestation, vendeur très sérieux et sympa. Ma guitare est arrivée en parfait état, très bien protégé pour le transport. Je recommande sans réserve. 🙂
PRODUCT CATGORIES
ABOUT US
Vintage Guitar Gallery of Long Island is a new and exciting place for fine art collectors, musicians, and guitar enthusiasts. We carry some of the most amazing vintage guitars, amps, radios, and other rock memorabilia and provide instrument repair restoration, consignment, and musical instrument appraisal services.
We are proud to offer products from such unique and established brands as Fender, Gibson, Gretsch, Premier, Epiphone, Silvertone, Danelectro, Airline, Rickenbacker, Dobro, Regal, Kay, Harmony, National, Supro, and many others.
Whether you live in Huntington, NY, or you're just visiting from out of town, give us a call at (516) 216-9889 and let us know you would like to stop on over to our shop to check out some of the amazing guitars, amps, radios and other great vintage items we have on display. We look forward to your visit with us.